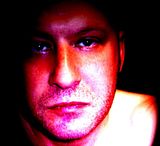 Click to enlarge !
Paul Reynolds was born in Darnall Sheffield. He started playing guitar at the age of 11.
Influenced by his mother's Beatles records, old punk songs, Syd Barrett and The Smiths, he made his first album 'Liberation', in 1985, whilst still a teenager, writing, singing and playing all the instruments himself 'to save money'.
He formed the critically acclaimed Wish at Sheffield University in 1990. The band recorded an album's worth of material but broke up in 1992. He has continued to record as a solo artist, making an album a year on the Akadok label, which he started with his brother and producer Mick.
His latest album 'Star', along with re-issues of many of his previous recordings, is now available.
Quiet and self effacing, he rarely performs live, never makes videos, doesn't have a website, and lives quietly in Sheffield with his partner.
Albums now available:
Terminus
Nice
Wuthering Depths
Abbey Lane
Closure
Star
Remember
Remember 2
Paul would recommend one or other of the last 2 for the casual listener though, as they're compilations and have the most commercial stuff on them All can be ordered through him at akadok @ btinternetdotcom. (without spaces and a real dot)